VERANO
ESCUELA SECUNDARIA
INTENSIVO EN
PRÓXIMA GENERACIÓN
INGENIERÍA
Anticipamos que SHINE se lleve a cabo en el campus de USC en el verano de 2023, suponiendo que el COVID siga mejorando; todos los estudiantes aceptados en SHINE tendrán que cumplir plenamente los protocolos de seguridad COVID del Condado de Los Ángeles. Más información aqui.
SHINE 2023 se llevará a cabo durante
12 de junio al 28 de julio
Aplicaciones abiertas en Diciembre 2022!
Get notified when the application opens
Sign up for email notifications
Confirmar Asistencia para SHINE Sesión de Información
Deciembre 6 • 5:00 pm - 6:00 pm
Ya no tenemos aplicaciones con fecha abierta, ahora hay una fecha límite para completar la aplicación.
Incluso cuando se llevó a cabo de forma virtual, SHINE cumplió su compromiso de proporcionarle a los estudiantes de secundaria una experiencia de investigación de la vida real como parte del equipo de investigación de un profesor. SHINE se basa en el aprendizaje experiencial –aprender haciendo, no estudiando– sumergiendo a los estudiantes, de acuerdo a su elección, en investigaciones de vanguardia sobre cáncer, sustentabilidad medioambiental, aprendizaje automático, robótica, tecnología táctil, industria aeroespacial y mucho más. La orientación cercana por mentores es realizada por el profesorado, el personal y especialmente los estudiantes de postgrado investigadores de USC Viterbi; todos ellos estrechamente involucrados en las actividades y la red de la cohorte SHINE. SHINE ya está en su octavo año y antiguos estudiantes de SHINE asisten ahora a la mayoría de las mejores escuelas y universidades de ingeniería del país, incluyendo a nuestra USC Viterbi, y a MIT, Harvard, CalTech, Stanford, UC Berkeley, Duke, U Penn, entre otras.

Para tener una buena idea del nivel avanzado de investigación realizado por los estudiantes de SHINE, por favor vea todos los carteles desde 2015. Las experiencias grupales, sociales y académicas siguen siendo una prioridad, incluidas las oportunidades de formación de equipos, consejos de preparación para la universidad, creación de redes y diversión. Vea las opciones de los proyectos de investigación de 2022 y los carteles de culminación de los últimos ocho años. Lea sobre los ex alumnos de SHINE que ahora asisten a USC Viterbi. Vea la contribución de una alumna de SHINE a un artículo revisado por pares del laboratorio Smith publicado por la Royal Society of Chemistry.
and SHINE will pair you with the professor of the best fit!
"Trabajar en un laboratorio de robótica me ha dado definitivamente una ventaja en mi clase de ingeniería [en la universidad], tanto por la experiencia práctica de programación/circuitos, como por la resolución creativa de problemas que requieren ambos entornos."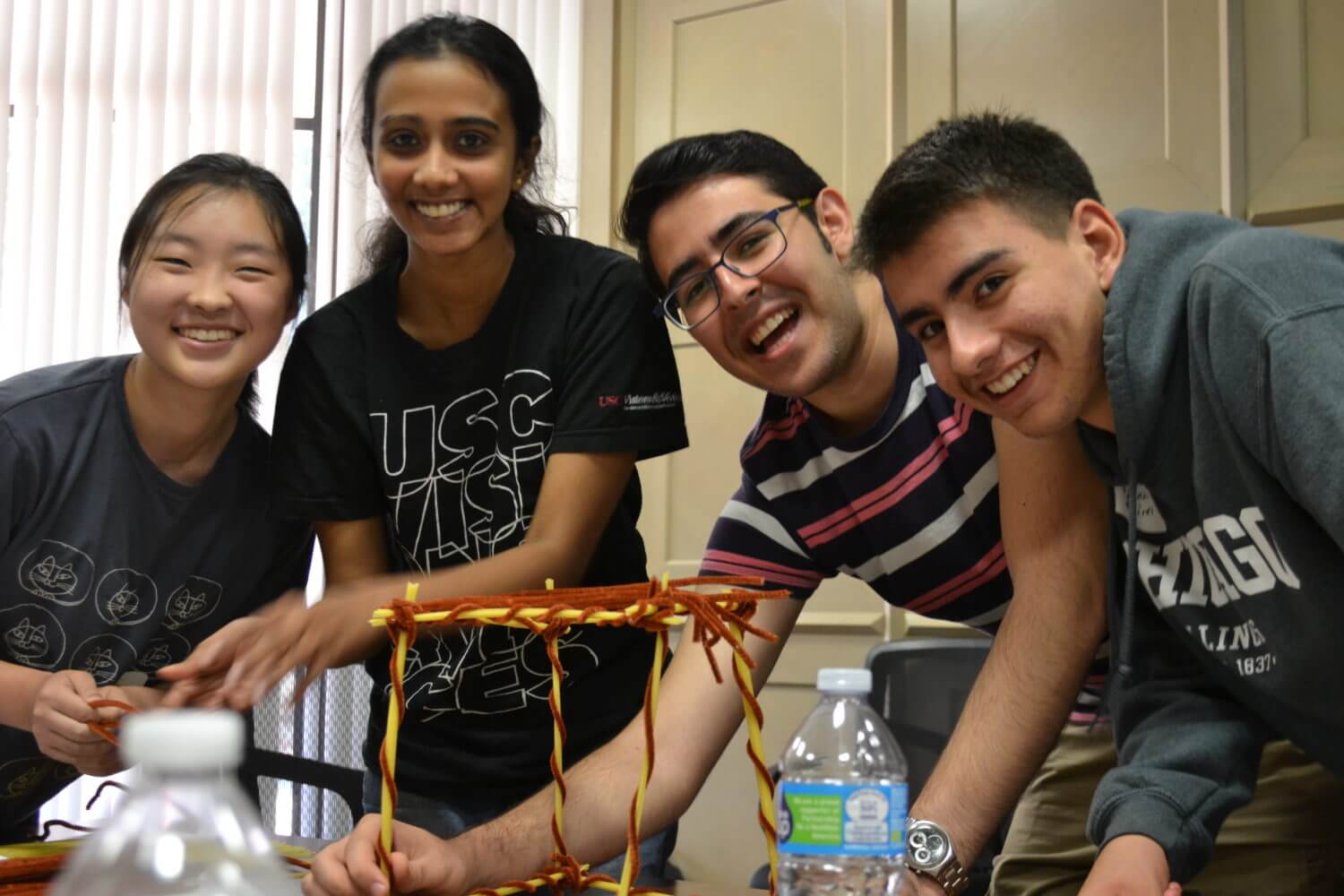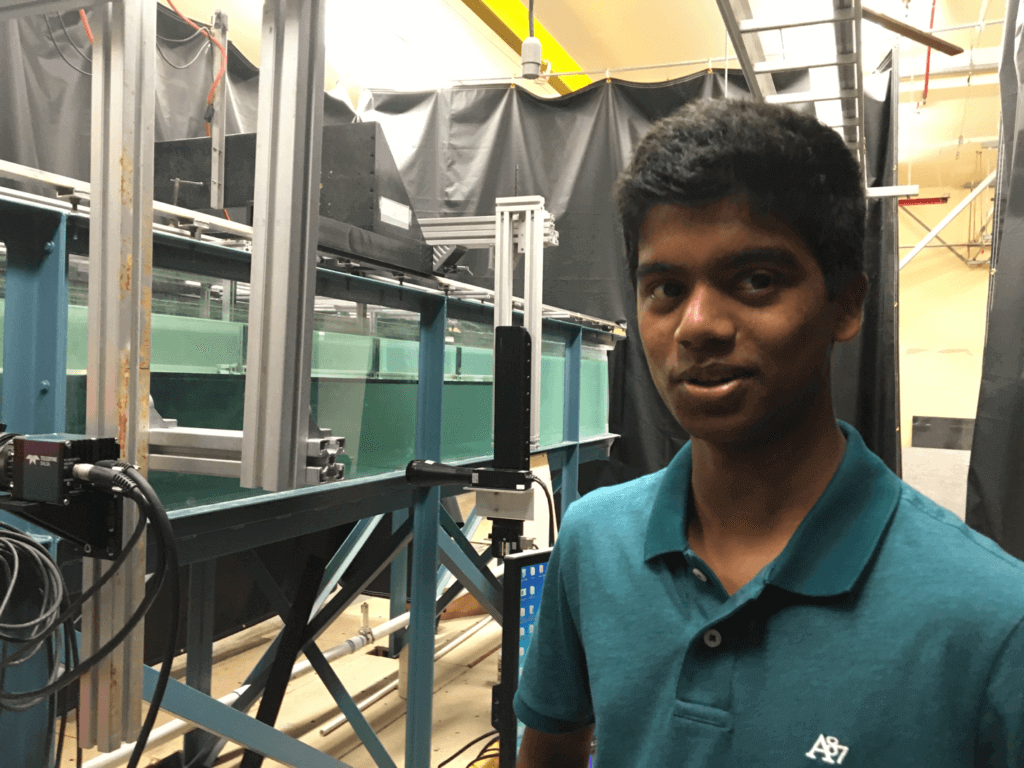 "Al leer artículos publicados por expertos y ver a mis mentores de laboratorio comunicarse con sus compañeros de todo el mundo, me di cuenta de que la investigación es intrínsecamente colaborativa."
"Al trabajar junto a mi apasionado mentor de doctorado y hablar con el profesor Nuzzo, aprendí que comparto el mismo deseo e impulso de mejorar y enriquecer la vida de los habitantes de mi comunidad y de otros lugares. Una de las formas en que puedo hacerlo y lo he hecho es a través de la investigación".
---
---
Please visit the USC Office of Youth Protection and Programming to find out how we protect your child and how you can as well. We have included here for your convenience:
Information for Parents, Guardians and Caretakers:
As a trusted adult in a child's life, parents, guardians and caretakers play an important role and are uniquely equipped to help them understand and assert personal boundaries, develop healthy relationships, and spot potential problems before they develop into bigger ones. We want you to feel informed about what's in place to help keep your child safe while participating in a youth program, camp, activity, or event (referred to as "Covered Activity") at USC, how to recognize when something isn't quite right, and to feel empowered to report any concerns you may have.